Queen's University,
Donald Gordon Centre
A conference facility of 62,000 sq.ft. supporting programs offered by Queen's University, such as the Executive MBA Program, as well as, any private group wishing to use the facility. The Centre is organized around "Roselawn" which is a federally listed heritage building circa 1840. The project included the renovation and conversion of Roselawn. A more recent 1973 addition to the complex was redeveloped and integrated within the new design.
Three large conference rooms, wired for multi media presentations, and seminar rooms, full dining facilities, accommodation for 80 guests to Delta Hotel standards, fitness centre, bar and administration facilities.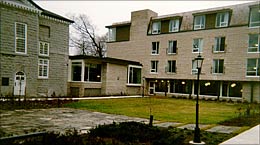 Our Team
Andrew Lawton, P.Eng.
Partner-in-Charge
Senior Mechanical Engineer
Arnold Midgley, P.Eng.
Senior Electrical Engineer