William E. Hay Centre
This Contained Use Facility, designed for 32 young offenders has a total floor area of 32,000 square feet. In addition to the residences, the main building contains functional space for education, training, dining, administration and recreation.
Unusual arrangement of spaces to provide as much a residential environment to young offenders, respecting security and containment requirements of a medium security facility, and containing school and recreational requirements indoors and out within the secure perimeter.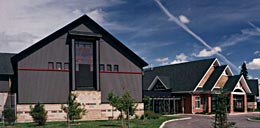 Our Team
Jim Siciliano, P.Eng.
Partner-in-Charge
Senior Mechanical Engineer
Arnold Midgley, P.Eng.
Senior Electrical Engineer