Queensway Carleton Hospital
The Queensway Carleton Hospital is redefining itself with the addition of 94,000 sq.ft. and renewal of 50,000 sq.ft. that required a new Mechanical and Electrical Master Plan to provide the infrastructure support.
The Part II Redevelopment Program included a 34 bed Emergency/Trauma Department, a 12 bed Intensive Care Unit, 23 new Geriatric Assessment beds, a 15 bed Rehabilitation Unit, an Outpatient Rehabilitation Program, Diagnostic Imaging, Day Surgery Suites, Ambulatory Care Department, Geriatric Day Hospital, Cardiopulmonary Unit, and a Mental Health Unit.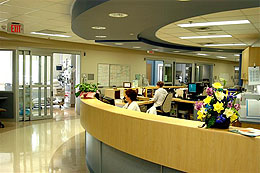 Our Team
Jason D. MacMurdo, P.Eng.
Partner-in-Charge
Senior Mechanical Engineer
François Dussault, P.Eng.
Senior Electrical Engineer
Lee Hyland
Mechanical Designer
Steve Milek
Electrical Designer